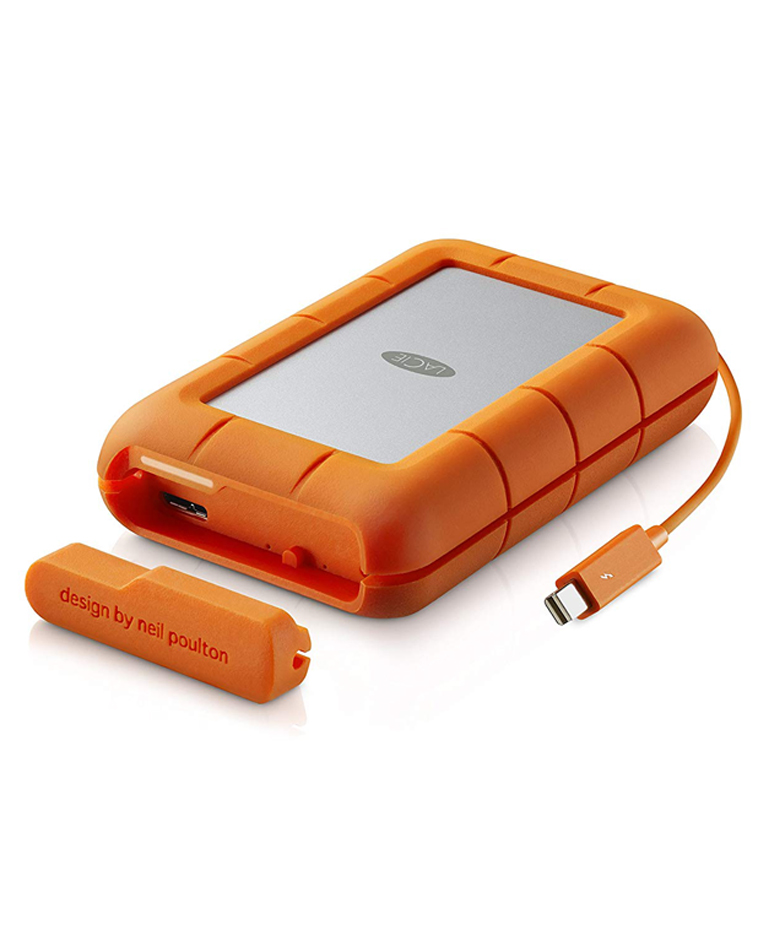 LaCie Rugged RAID Thunderbolt and USB 3.0
Rugged Design
The LaCie Rugged is tested to withstand drops (in non-operating mode) of up to 1.5 meters (5 feet) and being run over by a 1-ton car***. So whether the LaCie Rugged falls out of your backpack or is crushed by stacks of suitcases in the airplane cargo hold, your data remains safe.

Toughest in the Field. Fast and Secure Anywhere.
With the LaCie Rugged RAID, you get it all in one package – with zero tradeoffs. It delivers a game-changing blend of PC and Mac compatibility, capacity, speed, mobility, and reliability. As the ultimate solution for on-the-go professionals, the LaCie Rugged adapts to your needs for performance or complete data security.
More Speed, Less Waiting
Thunderbolt and USB 3.0 for speeds of up to 240 MB/s

Bus powered via Thunderbolt for mobile workflows

Hardware RAID 0/1 flexibility for speed or security

Shock, dust, and water resistance for all-terrain use
When getting the win hinges on speed, you need Thunderbolt. The LaCie Rugged also includes two internal hard drives that are preconfigured in hardware RAID 0 for sustained performance of up to 240 MB/s*.

At this speed, you can store and transfer content twice as fast as before. It's a time-slashing solution for field-based professionals who collect and move tons of data onto external storage.
Versatility Anywhere, on Any Computer
Tailor the LaCie Rugged to your precise needs. Leave it in RAID 0 (striped mode) to maximize speed and capacity. Or choose RAID 1 (mirrored mode), where your data is duplicated across the two drives. So even if a drive fails in the field, your files remain completely accessible.

Using LaCie Setup Assistant, it's incredibly easy to make the LaCie Rugged compatible with any Mac computer, PC, or both. And with Thunderbolt and USB 3.0 interfaces and hardware RAID, any computer will recognize the LaCie Rugged**. It lets you transport a massive amount of data – with complete security – and access it freely from any computer.